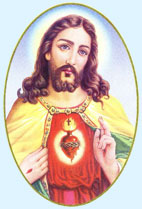 THE COMPASSIONATE LOVE of Jesus and Mary is the hallmark of the life of a Sister of Charity of Jesus and Mary. Their charity animates and invigorates us in our life and mission.
In response to God's loving call, we have chosen to be an incarnate presence of the Compassionate Love of Jesus who walked the paths of Palestine touching the hearts of men and women and restoring them to their human dignity as persons and children of God.
We look at Mary the model of Charity and strive to follow the way of Mary our Mother, to make our own her spirit of sacrifice and surrender, openness and availability to God's plan. Like Mary, we endeavor to participate actively and joyfully in the mission of Christ.